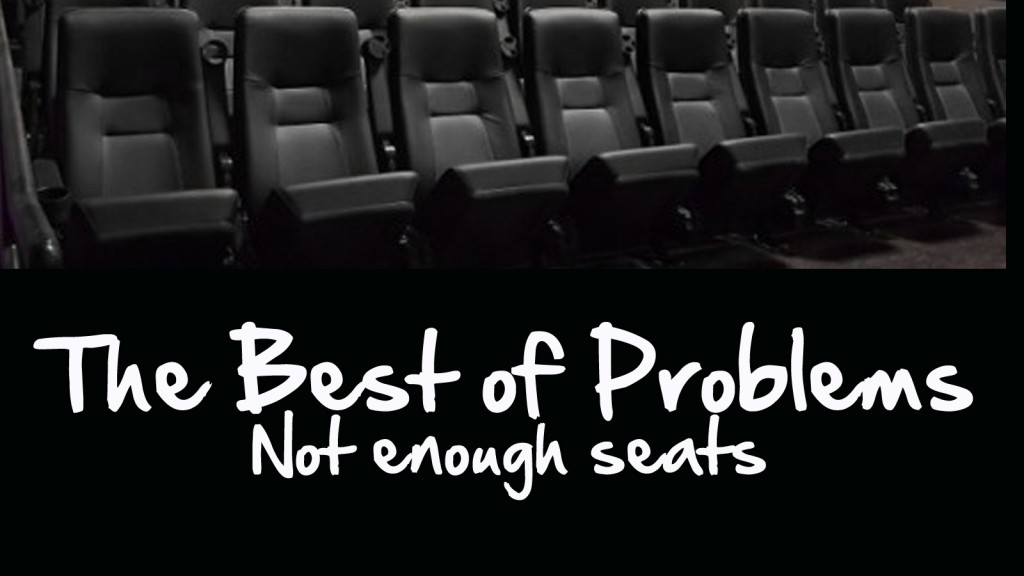 Nobody dreamed we could have church in a movie theater… but we did.
When we started it was mostly empty.  We dreamed of filling it with people who wanted to pursue their Creator without the fear of gossip, judgment or condemnation from others. Imperfect people.  That is who we were.  That is who we are.
We were lives that were not whitewashed and lives that were not pretending to have it all together.  That was us… lives that were genuine, real, honest and honestly looking for God to make a difference in us.  In turn we were lives that wanted to make a difference in others by serving and loving everyone around… serving and loving others toward the cross of Jesus where He too would begin making an eternal difference in their lives as well.  That is who we were.
And that is who we are as it continues today.  Life after life coming to meet Jesus.  Jesus beginning to make a difference in their life and in return… being overwhelmed with gratefulness and loving and serving those around.  They begin serving them all the way to into that same movie theater where we, together, escort them to the cross of Jesus and the empty tomb.
Because that is who we are the movie theater is now full. Praise God because lives are changing. Stuttgart Harvest Church will never stop growing.  As long as there is one soul within 45 minutes of us who is not yet connected with Jesus we will never stop growing.
Your personal faith growth is directly related to the health and future of this church.  As you say yes to God, as you step out of your comfort zone and as you grow your faith this church grows.  As you say yes to God's plan for living and God's plan for finances, you grow.  As you grow this church reaches lives represented by many dads, moms and kids.
But here is the challenge of reaching others… Our facilities will stop us if we allow them to.  On the average Sunday we don't have the seats needed.  Research tells us that when a room is 80% full a new person, a person searching for Christ and hoping He will make a difference in their life, walks in and struggles to get to a seat.   Research tells us they won't come back.  No matter how much they love it, no matter how much they need it, no matter how much they want it they won't come back.  They won't be back because they feel there is no room for them.
We are at that point. If we don't do something about it we will stop reaching others. We will continue to fill the theater up to and past 80% full and then in a few months it will dip back down below 80% filled.  It will climb up again only drop down again.  Research tells us this cycle will be repeated until we add more seats. The theater simply can't contain what is needed to be done in this region.  We will forever fill it and fall back because there is not room.  Research has revealed this to be true for most churches and we are finding it true for us too.
We have experimented with using both theaters but the video option has not proved adequate to create the environment which characterizes Stuttgart Harvest Church.
So what do we do when there is not a building in our area that will hold the lives of those we must reach?
This is not about trying to make ourselves look good with a new building.  This is not about trying to eliminate setting up and tearing down.  We would be content meeting in a movie theater for the rest of our existence but it is just not large enough and there is not a facility around that can give us a place to meet with our students and adults in addition to our small children and school age children. God has placed SHC here for more than us, more than what we are doing now.  There are hundreds of people praying for God to make a difference in their lives at this very moment.  God has us here to show them the way.
As a church we have to start preparing now so we can create room for the souls needing to connect eternally with Christ. Land is available.  Stuttgart land is more expensive than land in other towns our size.  We can't change that.  Land is available.  Look at 22nd street (west, past the funeral home) and you will see five acres ready for someone.  Land is available.
That is not all because there are many options.  Land and a building are coming available.  Petrus Ford is building a new facility on new property.  They will be selling the land and building they are in now.  This is a location we could move into and start having church immediately.  This property will be available soon.
Right now the obstacle is not availability.
Your lead pastor, your pastors and vision partners have not been told by God to jump onto a piece of property yet but we know it is going to happen.  He is going to point to something and say,  "Go… Go there."  We must use this knowledge, the knowledge that He is going to move us in order to reach more souls, to begin preparing now.  We must prepare now so when He does point we can go. If He pointed today we would have to say, "God, I'm sorry. We can't go because we are not ready. Yes, we have known this day was coming but we didn't prepare.  Wait for us God and let us catch up with you.  Keep that land available for us please.  We just didn't get ready when we knew we should have."
You see, Stuttgart Harvest Church is just paying our bills now (and some weeks just barely).  That means we are not in a position to act when God says act.  We don't have the financial giving which will allow us to follow God's direction.  That is why we are preparing now for a move that will come.
We have felt God leading us to place ourselves in a position to quickly say yes to God's direction. Can you imagine having room to more easily seat the mothers, fathers and their teenagers who are trying to get a fresh start with Jesus?  Can you see us giving them a place where they feel there is room for their family?  Can you imagine giving them great space for their little children to meet Jesus and great space for their school age children to discover that Jesus wants to be their friend forever? Can you imagine those lives following Jesus, getting baptized and going on to love the lives around them?
It is God's beautiful plan that is not meant to stop as those who are reached begin reaching others.  But soon we are going to stop it if we don't get ready to change properties. We are asking you to help us reach more fathers and see their lives changed.  We are asking you to help us reach single adults, mothers and children.  We are asking you to help us.
Here is what God laid on our hearts and it is simple math (understanding that God will tell you what he wants you to do if you ask… some will give more because God says to give more… others will give less because God will tell them what to give… the important thing is we give what He says)… what if 100 people started giving what they have been giving plus $40 more a month.  Most of us waste much more than that monthly. $40 a month is $10 a week.  God has laid this on my heart as an example of how close we are to being ready to take our next step.  He asked me to bring this information to you as an example of what $10 more a week will mean to Stuttgart Harvest Church and our ability to enter a facility allowing us to reach more precious souls.
I know God works differently and specifically.  Some of us he is going to speak and you will end up giving $20 or $30 or even more weekly.  Others He will stretch you past your limit and it might be $5.  God does this work. He just asks me to present it. He will speak to you if you ask Him. We are asking you to begin this now, not when we are ready to move.
We need it to start giving more now so the financial institutions will be willing to work with us.  This increased giving will prove to the banks that we have the income to buy property.  If we wait to give, SHC will not have a proven track record of giving the needed amount.
We are asking you to join us as we prepare to say yes to God.  He has placed us here for more than ourselves. We are asking you to take a step with us.  This is an amazing step that says, "God, you have placed me here for more than getting to my weekends and relaxation.  You have placed me here to make a difference in the families who are looking for hope which they will only find in Jesus.  I'm here to make a way for them.  I'm here to point them to Christ."
Has SHC made a difference in your life? Has your faith grown?  Has your faith been renewed?  Most of us answer these questions with a resounding yes. Then will you claim SHC as your church?  This is not Harley's church.  This is not "their" church.  This is not just a good church.  This is YOUR church.  Will you claim this church as yours?  Your church.  Your home.  The place you are going to call home.  The place you are going to invest your family into.  It is the place that is no longer a church or their church but your church home. Here, together, as a church family… your family… your church family… this is yours… claim it as yours.
Admit that God has sent you here not to see what SHC will do for you next but He has sent you here to see what you will do next through your church, your church home, your family. Together we can see lives changed forever.  Will you join us?  I can't wait to reach our world! Let's do this together.

Posted in dangerous church, Growing, new life by harleypetty with 1 comment.